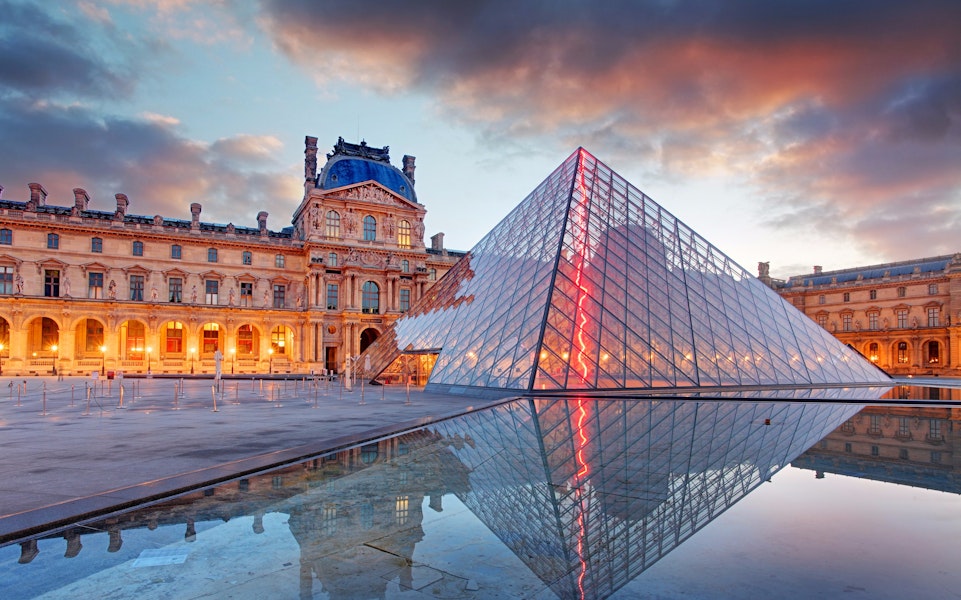 Everything You Need to Know About Visiting Louvre Museum Paris
The Louvre is one of the largest museums in the world and is visited by millions of people annually. More often than not, this results in crowded spaces with lots of people wanting to see the famous Mona Lisa, among other influential works of art. To make the most of your time there, you need to plan ahead. Here's everything you need to know about visiting Louvre Museum Paris.
Visiting Louvre Museum Paris
What are the Louvre opening hours?
The Louvre museum is open from 9 AM to 6 PM throughout the week, except on Tuesdays. 
What is the last time of entry?
The last admission at the Louvre is at 5:30 PM.
Which days is the Louvre Museum closed?
Louvre Museum is open every day except Tuesdays, January 1, May 1, and December 25.
Where is the Louvre located?
Louvre Museum is located at Rue de Rivoli, 75001 Paris, France. Get directions.
Knowledge Graph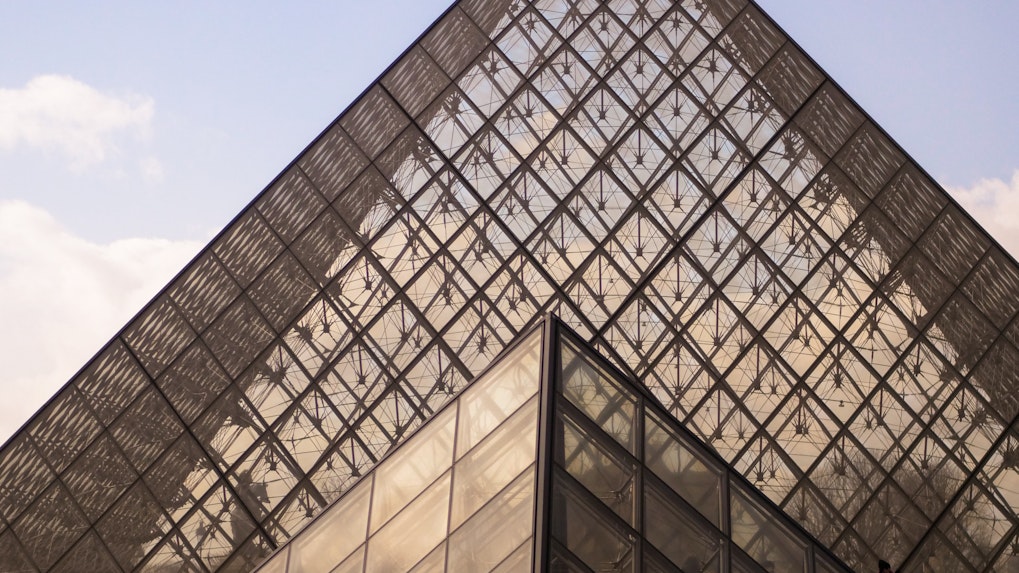 Also Known As: Musée du Louvre or Great Louvre. 
Location: Louvre Museum is located at Rue de Rivoli, 75001 Paris, France.
Opening: Louvre Museum opened to the public on 10 August 1793.
Operational Hours: The Louvre Museum is open for visit Wednesday to Monday, 9 AM to 6 PM. Learn more about Louvre timings.
Entrances: The Louvre has four entrances: I.M. Pei Pyramid, Carrousel du Louvre, Passage Richelieu, and Porte des Lions. Currently, only I.M. Pei Pyramid and Passage Richelieu are open.
Number of visitors per year: Approximately 10 million.
Best time to Visit Louvre Museum
The Louvre Museum is one of the largest and most visited museums in the world today. With a gallery space of 72,735 sq.m, the venue has about 35,000 permanent exhibits that are spread across eight departments. Though it might not be possible to see everything in one day considering the sheer size of the museum, it is always recommended that you plan your experience to cover as much as possible within a day.
If you're looking for the right time to visit the museum, it is advised you reserve your time slot early during the day, helping you escape the crowd and make use of your time in the best manner. Evening hours are ideal for those who wish to witness the grand lighting showcased at the Louvre pyramid. 
The Louvre is busiest between June to September, but you can expect fewer visitors between January and April. With Louvre Skip the Line tickets, you can gain a quick entry, giving you more time to spend within the premises.
Getting There
Metro
Get a great view and save some money by traveling in the metro as you make your way to the venue. Lines 1 & 7 will take you to Palais-Royal–Musée du Louvre, the closest metro station to the museum. You can find a ticket redemption center here. Line 14 will drop you to Pyramides, which is a 2-minute walk from the museum.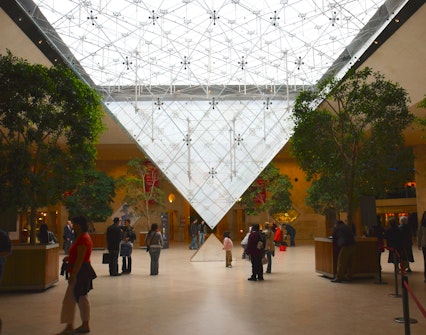 Bus
Take the public bus service in Paris to get dropped directly in front of the Louvre Museum. It's comfortable, convenient, and saves excessive expenditure. Buses 21, 24, 27, 39, 48, 68, 69, 72, 81, and 95 will drop you close to the museum.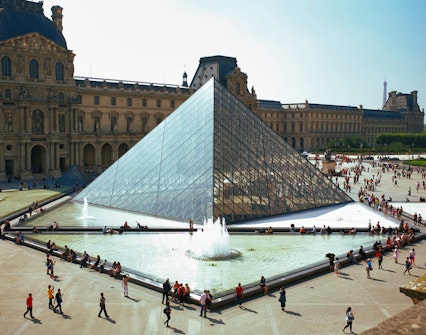 RER
The closest RER station is Chatelet Les Halles on line RER A.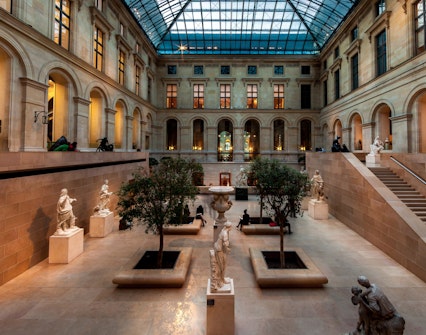 Car
You can drive down to the Louvre. Underground parking is available on Avenue du Général Lemonier, open daily between 7 AM - 11 PM.
Skip the Line at Louvre
The Louvre Museum is visited by approximately 15,000 visitors each day. Considering its popularity, it might be difficult to obtain tickets directly from the venue as they sell out very quickly! However, don't let this discourage you, as there are ways for you to skip the line and enter the museum: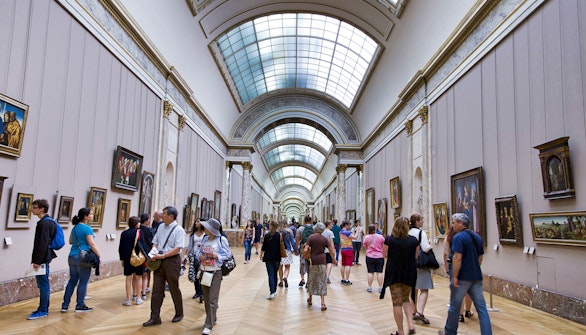 Book Your Tickets In Advance
Tickets to the Louvre museum sell out weeks in advance, so you need to prepare in advance to gain entry. You can purchase skip the line tickets, where you can select the date and time of your choice and reserve the slot based on your preference. The online e-ticket will be sent to you via email which can be displayed at the entrance before entering the venue. This way, it is more convenient, less chaotic, and you get to begin your experience without having to wait in long queues.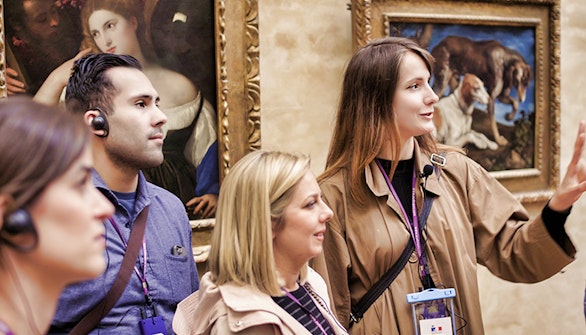 Take a Guided Tour
A guided tour gives you skip the line access to the museum along with a knowledgeable guide who will take you through the highlights of the venue, and is happy to answer any questions you have. Discover the highlights in a small group and learn about some of the most important artworks in history in an intimate manner. While this option is slightly more expensive, it is worth every penny.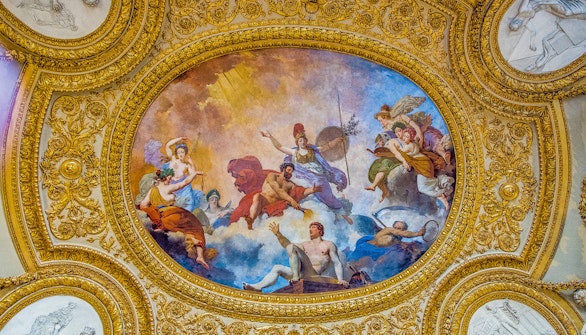 Go Early
The Louvre museum opens at 9 AM every day except for Tuesdays, which is when you can expect the least crowd. Arrive at least 15 minutes early to avoid any delay, because once you miss the designated time slot, it can be difficult to access the venue. Enjoy priority access by reaching early and begin your experience by gaining direct entry into the museum.
Louvre Entrances
There are four entrances individual ticket holders can use to enter the museum: 
I.M. Pei Pyramid: This is the main entrance of the Louvre Museum near the iconic pyramid.
Carrousel du Louvre: This entrance is often referred to as "the mall entrance to the Louvre", and is an underground entrance.
Passage Richelieu: If you have made a group booking or have an annual membership, this is the entrance you can take for fast track entry.
Porte des Lions: This entrance is located in the internal part of the Louvre and attracts an average amount of visitors. It is closed on Fridays and closes by 5:15 PM on Wednesdays. Please note that it has been temporarily closed since 2019.
Know Before You Go 
Hydro-alcoholic gel dispensers are placed at the entrance of the museum for you to sanitize your hands. 
The audio guides and headsets provided to visitors have been cleaned and disinfected extensively before and after each use ensuring a safe experience for all guests.
Physical distancing must be followed at all times within the venue. Signs and instructions have been placed at various points to guide visitors. 
For security reasons, Salle des États (where the Mona Lisa is displayed) will be entered and exited through separate doors.
Use the Passage Richelieu and Carrousel du Louvre entrances as they are less crowded compared to the main Pyramid entrance.
Spontaneous travel to the museum can be tricky as the slots get filled up very quickly. It is highly recommended you book your tickets in advance to guarantee your visit. 
For safety reasons, some of the services have been temporarily suspended. This includes closure of changing rooms and prohibition of helmets, umbrellas, canes, suitcases, and luggage into the venue. 
To maintain social distancing, only contactless bank cards will be accepted at the venue.
Prams/strollers and wheelchairs are available at the museum for guests to borrow.
The museum bookstore has reopened to the public.
Visiting Louvre Museum Paris: Frequently Asked Questions
Who can enter the Louvre for free?
Free admission will be granted to the Louvre museum for guests that are under the age of 18, EU residents under the age of 25, visitors with disabilities and the person accompanying them, and teachers of art and art history.
Can I enter anytime during the operating hours?
Capacity has been significantly reduced post lockdown. To ensure maximum safety, it is now mandatory to reserve a time slot before entering the museum.
Is it mandatory to wear face masks at the museum?
Yes, it is compulsory to wear masks for visitors above the age of 11 both inside the museum and throughout the Louvre and Tuileries grounds. Visitors must bring their own masks as it will not be provided at the venue.
When can I expect fewer crowds at the museum?
Morning hours are the ideal time to visit if you wish to escape the crowd. An early morning entry or a visit around 3 PM would be the right time to avoid crowds.
Are group visits allowed?
Yes, usually, independent tour guides can accompany groups of a maximum of 25 people. But currently, guided tours now permit only groups of 10 due to COVID restrictions. Guests must follow social distancing protocol.
Is there a dress code to be followed at the Louvre Museum?
There is no mandatory dress code to be followed. However, It's going to be a long walk within the venue so ensure you carry plenty of water and wear comfortable shoes for an enjoyable visit. You can also borrow walking sticks and foldable chairs from the Museum Centre for free.